There are three different login types in our Burkon online symposium system. One of these authorization types is the entrance of the stand area officer assigned by the sponsor companies. In order to have this authorization, you need to contact the Burkon Tourism sponsorship authority and request this authorization for your membership. Once this authorized user name logs into the system, they can make the following updates in their stand areas.

Stand Presentation: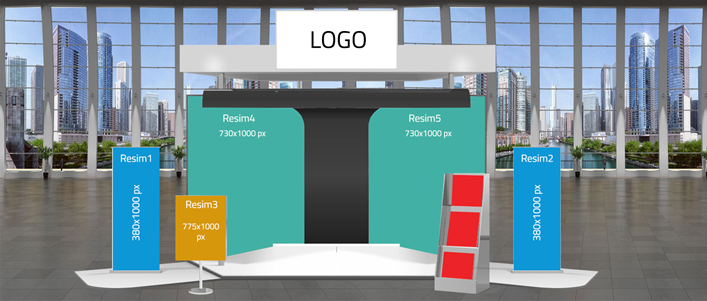 On the empty stand you have seen above, there is a pediment at the top where the company logo will be attached. We can add your visuals to the widest picture areas (Picture4 and Picture5 areas) in the stand area under both the right and left sides. We can add your product images to the Roll-Up designs (Picture1 and Picture2) that seem to be placed next to your stand. We thought you would like to place an image that you intend to highlight on the yellow Flipchart board.

Company Presentation: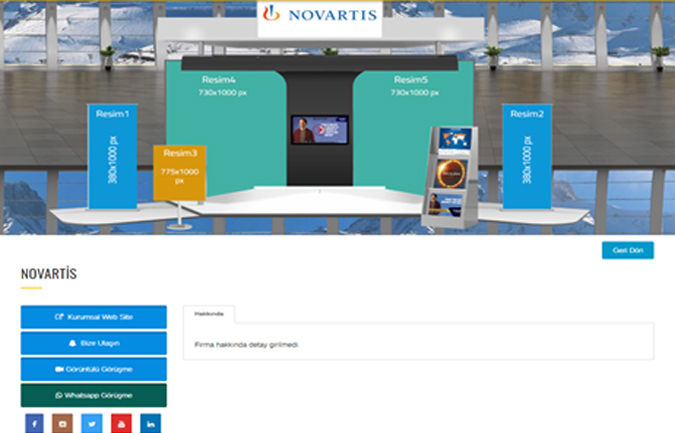 On the pages of our sponsor companies, there are corporate web page links, communication links, booth staff who will make video or Whatsapp speech, company introduction letter, company documents, promotional films and social media accounts, in addition to the stands dressed with the images sent to us.

When authorized accounts that can manage the stands enter the online congress system, they find their own companies in the stand area and open the section with the details of the company pages, and they can see the "Settings" button as follows, unlike the other participants.

Authorized company users entering this field can manage all fields on the company detail page such as "My Company Information", "My Documents" and "My Business Cards" from the opened panel. In addition, from the "Users" section on the top left, the meeting status of himself and other company officials can be updated to appear on the stand page.

When you enter the "My Company Information" section, it can update the company name in English and Turkish, the company introduction letter, corporate website and communication links, company introduction videos and social media accounts within the limits of its authority.

It is possible to download your product or company introduction brochures as PDF, which will be available in the "My Documents" tab on the booth page and can be downloaded in Turkish and English. Management and updates of previously uploaded documents can also be done from this section.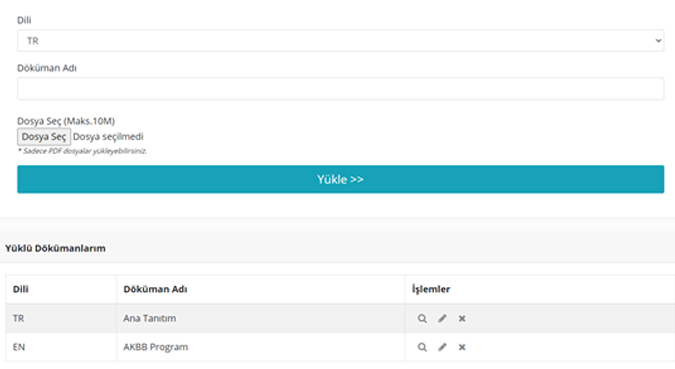 "My business cards" section also works similarly to my documents. If authorized members upload the double-sided images of their business cards to the system in JPG, JPEG, PNG formats from this section. These records can be seen in the My Business Cards tab on the stand page.